Giant Games to keep all the Family Amused for Hours
Small and Large Monster Toss
 Small = £12 per hire
 Large = £20 per hire

 Includes 5 bean bags
 Dimensions:
 Small (Approximately) width 58cm - height 56cm
 Large (Approximately) width 68cm - height 68cm

This great party game comes as a sturdy wooden structure and comes in two sizes ideal for toddlers or older children. The aim of the game is to get the bean bag into the monsters mouth!
Giant Soft Play Noughts & Crosses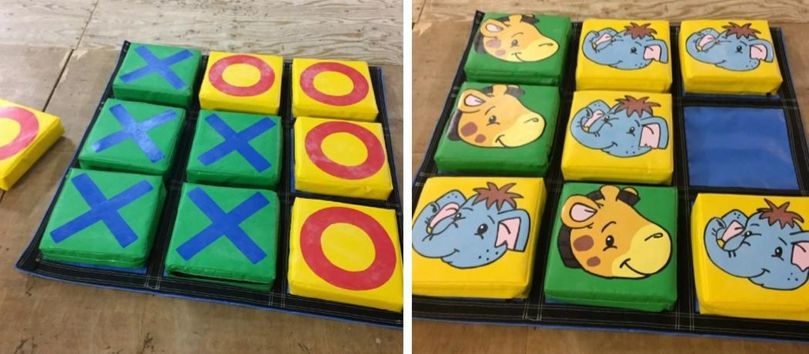  £30
 Includes mat and 10 soft play reversible pieces

 Dimensions: approximately 90cm x 90cm
Our new giant soft play noughts and crosses game is another age old game which will bring back great memories from anyone's childhood. Play the classic way with the noughts and crosses or reverse the pieces for younger children and play with the fun jungle animals instead. A great addition to any party.
Beat the Buzzer
 £40 (or £30 with any orders of £100 or more from any of our soft play packages or pick & mix items)
 Suitable for all ages from 3 years up
 Battery operated (no need for electricity supply)
 Table needs to be supplied by hirer

 Dimensions: approximately 120cm x 70cm
How steady are your nerves? Test your skill against family and friends with our Beat the Buzzer game. The aim of the game is to thread the hoop through the bendy wire from one end to the other without setting off the buzzer. You can play this game with different rules such as a time limit or even allow a maximum of, say 3 times, setting off the buzzer for younger participants. A great addition to any other hired equipment..
We have a minimum hire rate starting at £100 for non-local (please check with us when making enquiry) which does not include delivery fees. Orders below £100 but a minimum of £75 can only be delivered and collected (usually very flexible to help work with the customer) during midweek days Monday to Friday but this can only be accommodated if very local to us in NW3. Alternatively, for minimum £50 orders, equipment can be collected and returned to us in NW3 during any day of the week on prior arrangement with Kids Rule.
Please note that general booking prices quoted are for up to 5 hours' equipment hire until no later than 7:00 p.m. in the summer months or 6:00 p.m. in the winter months (October to March inclusive). If longer hours are necessary, reasonable hourly charges can be added. Free delivery applies to the following postcodes: Camden borders of NW1, NW3, NW5 and N19. All other areas will incur a delivery charge. Please contact us and enquire for more details.
More often than not, we are unable to set up soft play, toy and game hire anymore. This will normally be delivered, fully sanitised in advance and with full instructions on set up. If it is to be delivered on an upper floor or parking is an issue we will also ask the Customer to collect from our vehicle on delivery and return to our vehicle on collection. Any instructions (very simple) will be given at the time of delivery.
**Please inform us if access to the main area of the function is not easily accessible (i.e. are there any stairs at all? Is there a lift available? If the function is not on the ground floor, is there a long corridor or pathway, for example, longer than approximately 10 metres? Or do we have to carry equipment through a house to a rear garden? Some of these situations may require an additional charge and also extra delivery time, so please confirm this at the time of booking in order for us to be properly prepared. If this is not confirmed, the driver is permitted to use his discretion if he feels an extra charge is payable on the day.
Lastly, any areas in which equipment is to be set up MUST be cleared beforehand. Thank you for your co-operation!
N.B. The equipment with each soft play package may vary slightly from time to time due to upgrade or replacement. However, this will always be an improvement on our part, not the other way around.